We are the company that values the "Gakuryoku"(enjoyment of work).
People who can enjoy their present environment, people who enjoy each others' company, people who bring pleasure to each other, and people who aspire to these qualities – we are looking for people with "Gakuryoku."
01
2018 New graduate hire – Manufacturing Division
Nikken Sangyo is a company where you can grow as a person.
I had 6 months of training when I joined the company and now I am working on processing and testing using 3D laser machines at Wakayama Plant.
However, it is very rewarding work not only to move the machine, but also to think about shipping arrangements and inspections by my self. I feel that one of the company's slogans "CONNECTION" that the product that I inspect and ship myself is sent to the world.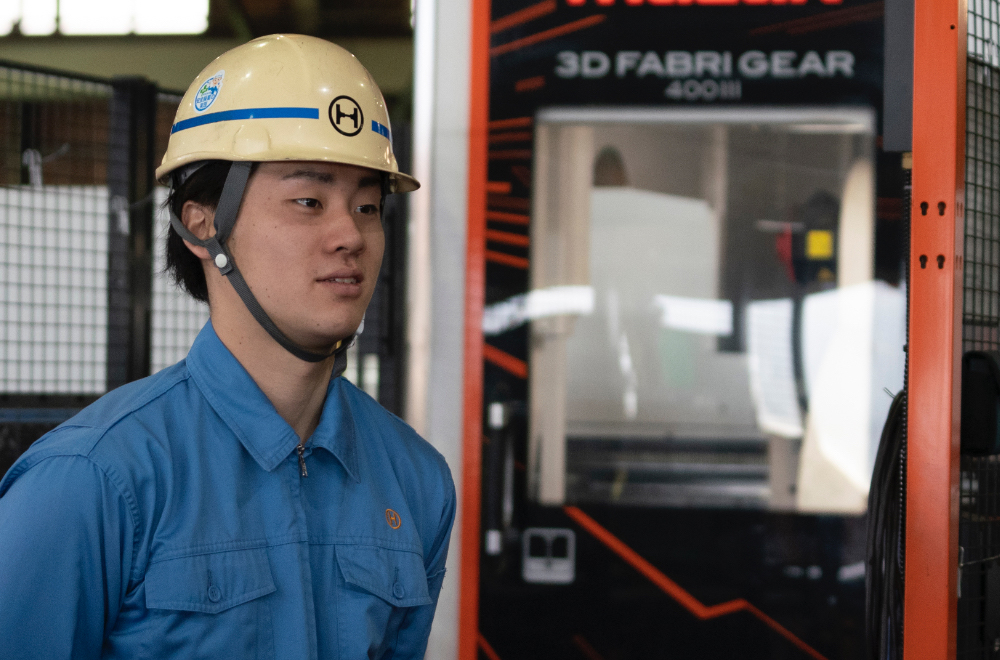 "I got an award for increasing the operating rate by 30%".
There is also an internal proposal system which called "Improvement Proposals" for improving work and I received an award for extending the steel pipe output rollers in order to improve operation of the laser machines that I operate which improved the operating rate by around 30%.
From now on, I am aiming to further improve the operating rate and reduce complaints to zero and I would like to work on new things such as welding.
Nikken Sangyo also provides support for obtaining qualifications so you feel that the company is backing you up. Actually, one of the reasons why I chose to work here is that, when I was at elementary school, I came to visit the Wakayama Plant and I saw how everyone was enjoying their work. My senior colleagues are kind and I feel that it is a considerate company. As we are always planning ahead of schedule and working the machines efficiently in the run up to shipping deadlines, we don't usually have to do overtime and that means I can enjoy my life by meeting up with friends and so on after work.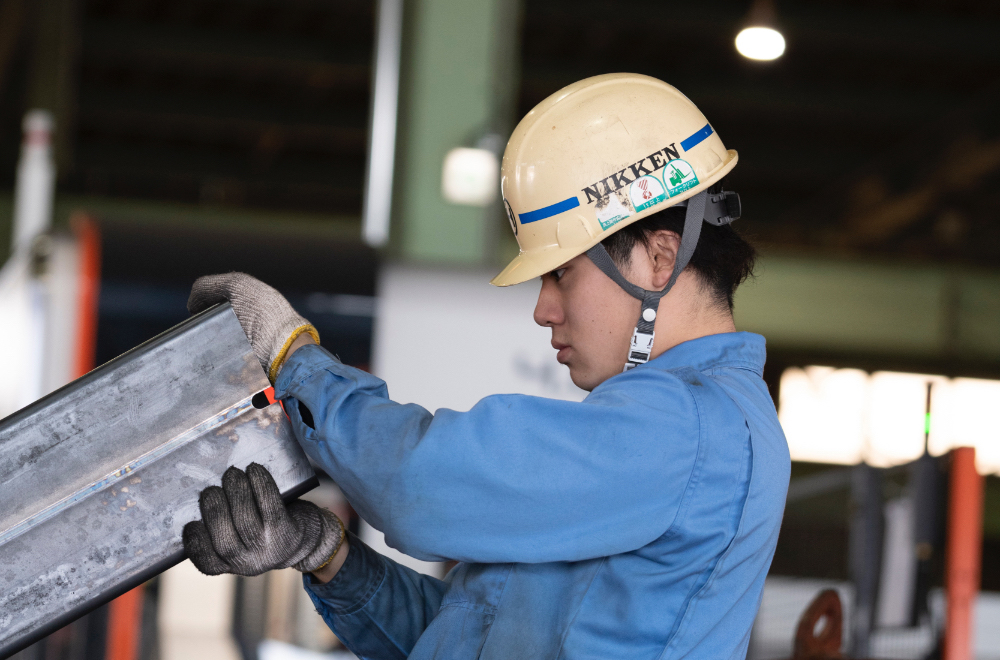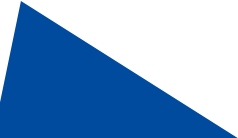 02
2014 New mid-career hire – Manufacturing Division
Nikken Sangyo is a company where you can work independently.
I am in charge of data processing for products shipment and delivery,expenses processing, dealing with visitors and adjustment with clients and company departments and so on in the office at Wakayama Plant.
Since I have been working individually up until now in things such as design, my current work is interesting because, although there were a few difficulties in working in partnership with related departments within the company, there are a lot of unexpected things and it feels fresh to me. I mostly embrace my work thinking that I am going to enjoy getting through even difficult situations so I feel that I share the same philosophy of "Gakuryoku" as the company.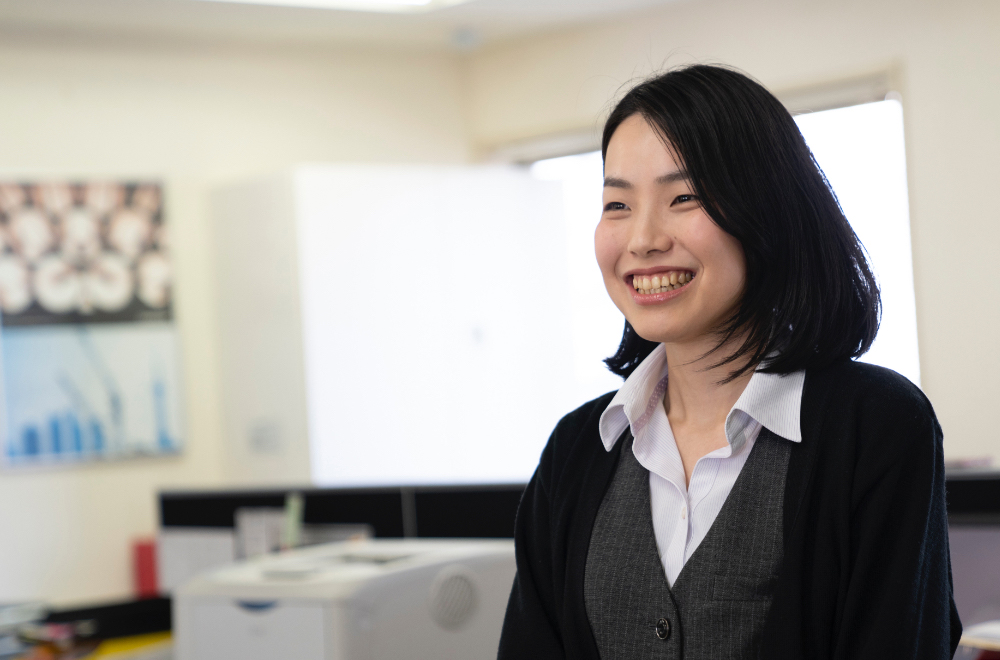 "I notice myself growing every day."
To be honest, before I joined the company, I had the impression that office work was repetitive matter-of-fact work but that has not been the case. It is satisfying because I think for myself, make improvements and cooperate with all sorts of people while making adjustments.
There are a lot of times when there are many inquiries about multiple things so I feel that I am growing day by day because I have become faster at prioritizing and switching from topic to topic and so on.
It is a workplace in which we have each other's backs and it has an atmosphere that makes it easy to work.
The company is working on creating a workplace in which women can be active and it places importance on communication within the workplace so it is easy to work here as we all have each other's backs. When I am working on something new, I sometimes get behind but I feel that I am able to balance my work with my private life so that I can see my friends on a regular basis.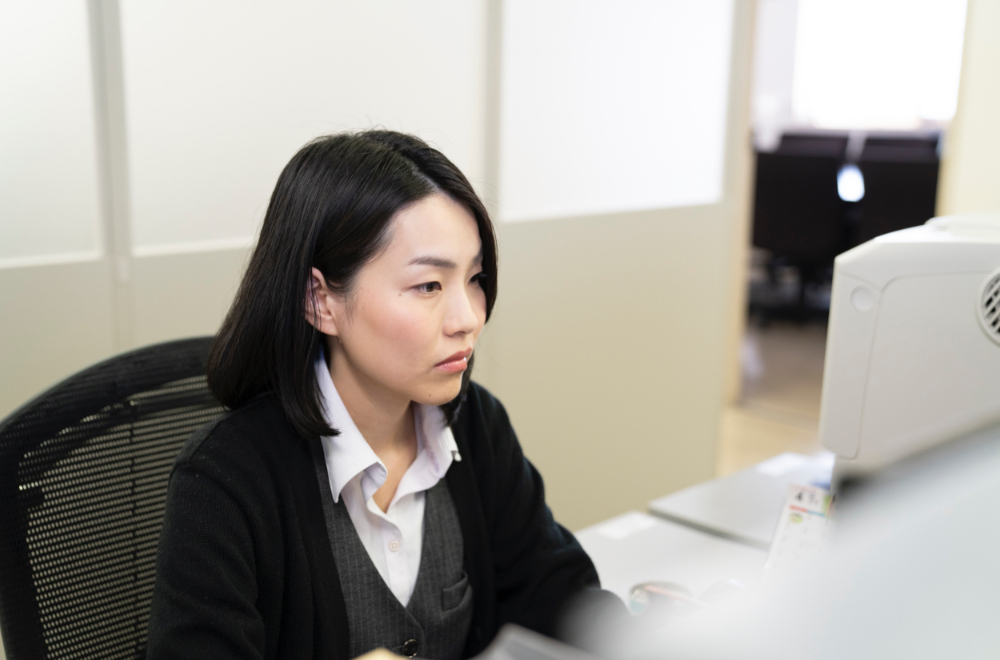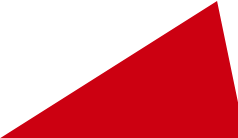 03
2014 New mid-career hire – Development Division
Nikken Sangyo is a company that encourages people.
I joined the company mid-career as an internal SE in charge of in-house systems.
My job involves PC management, developing basic systems, maintenance operation, server operation, network operation and IT support. I am currently working on company systems alone so I can work in close contact with the users of the system I am maintaining, improving and operating.
That is satisfying because it means I get a feel for what works and what doesn't while I am working.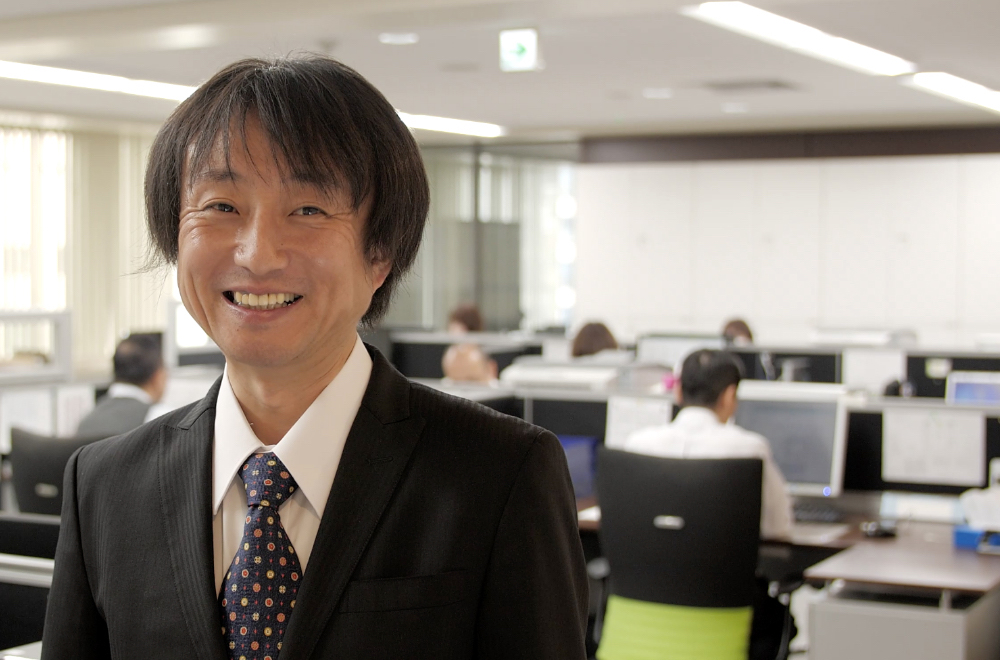 "I felt I was achieving great growth along with our business partners."
I am also given the opportunity to work on new things depending on adaptability, not just in my own limited domain so I felt I was achieving great growth in my new work when cooperating with our business partners.
It is an environment in which my superiors and the people around me back me up well.
There are times, such as during overall system updates, when I am very busy but it is basically an environment in which I can balance work and life so I can continue with my hobby of running – I am running around 200km a month. At the moment, I am really into making lunch boxes for my son, who has started at junior high. Nikken Sangyo has an environment in which superiors and the people around you back you up well when you are ambitious about your work so if you are thinking about joining the company, feel free to make enquiries.